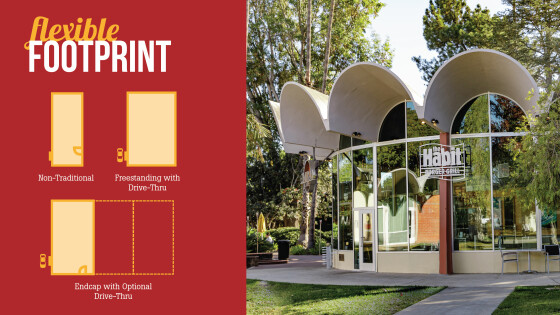 The Habit franchise provides restaurant investors a variety of real estate formats, granting our owners the flexibility to tap into niche markets across the country and deliver a next-level culinary experience to our far-reaching fan base. The adaptable nature of our real estate model allows our acclaimed restaurant franchise to fit into various types of properties – whether landing on an existing site or constructing a restaurant from the ground-up to fit perfectly in your market, our franchise support team is there to provide guidance from the start.
Take a deeper dive into The Habit's build-out options below:
Freestanding with Drive-Thru
Our freestanding with drive-thru format ranges from 2,500-3,000 square feet and fits well in suburban territories and shopping centers. With ample room comes the opportunity to make the most of The Habit's multiple revenue channels, like our kiosk ordering system, curbside pick-up, 3rd party delivery and more.
Endcaps with Optional Drive-Thru
In terms of integrated real estate selection, The Habit's endcap model fits well in strip malls and is particularly flexible. With a drive-thru option, endcaps can range between 2,400 and 2,800 square feet while allowing plenty of space for dine-in seating. Much like the Freestanding Drive-Thru model, The Habit's Endcap formats deliver a seamless Guest experience while also allowing space for optimized front-of-house and back-of-house operations.
Non-Traditional
The Habit's non-traditional models fit a variety of real estate venues, from college campuses and airports, to amusement parks, retail complexes and more. These high-traffic areas allow franchise owners to hit the ground running from opening day. Plus, adaptable licensing options allow restaurants to fit into existing real estate sites, typically under 1,200 square feet, often without the need for complete build-out construction from the ground-up.
If you're looking for a fast-casual franchise with a flexible footprint, get in touch by filling out our inquiry form. Start your franchising journey with The Habit today!